Trip Information
The Ciénaga de Zapata, in the province of Matanzas, Cuba is the best-preserved wetlands system in the entire Caribbean.
It is a place of such environmental significance that in 2000 UNESCO declared the wetlands which occupy the entire Cuban Zapata Peninsula and surrounding area a biosphere reserve. A year later, it was declared a wetland of international importance. The Cuban government then formalised a submission to UNESCO in 2003 that the Ciénaga de Zapata be declared a World Heritage Site.
It is this vast expanse of forestry and wetlands that cover just under 6,500 square miles of wilderness, supporting some 175 species of birds, 31 species of reptiles and over 1000 species of invertebrates which captured our attention.
In 2015, more than 60 miles was set aside as the San Lazaro Biosphere Reserve. Critically, commercial fishing was prohibited ensuring the habitat and fisheries were protected.
Here, within the entire West Salinas portion of this vast preserve, our partners Fly Fishing the Run (FFTR) have the only legal permission to access these waters, developing a 6 day, 7 night exclusive liveaboard charter to fish a total of 6 boats, based exclusively on catch and release fly fishing only charters for bonefish, tarpon, permit, and snook.
No more than eight anglers will share access to thousands of miles of remote, coastal mangrove-lined shores and creeks that support very healthy populations of juvenile tarpon, bonefsh and permit.
Join us on our next adventure to Cuba!
Book now
Zapata, Cuba
Price on application
PEAK SEASON MAY 13 – 20, 2023 EXCLUSIVE TO AFF ANGLERS
7 nights / 6 day twin share package with single room upgrades available.
Maximum eight anglers, per week, with accommodation aboard the MV Georgiana yacht, a 100 foot lodge style live-aboard with six private, individually air-conditioned cabins, each with their own ensuite bathroom, hot water, electrical outlets and closet space for storage.
Cuisine on Georgiana is gourmet but simple. Fresh fish of the day is utilized for most meals, salads with fresh vegetables and a variety of fruits are always available and a good alternative to a daily diet. In addition, you'll have excellent pork and chicken entrees during the week, fresh sashimi and Italian style pizzas for appetizers and some of the finest frozen Daiquiris, Cuba Libre and Mojitos to make your afternoons and nights an enjoyable culinary experience.
The yacht will be located in FFTR's exclusive fishing area, where after an intensive research they have developed 6 different fishing areas, under a rotation system to minimise pressure on each system.
Itinerary
May 13, 2023: Havana, CUBA
Arrive at Habana Airport. We recommend arriving the night prior to your scheduled pre-arranged transfer date and spending the night in vivid Havana to avoid any delays or disappointment.  Your host will meet you once you have cleared immigration and customs, where we will exchange cash to obtain CUCs (Cuban Convertible Pesos) and work our way to our hotel for the night.
May 14, 2023: TRANSFER DAY / HALF DAY FISHING
Once the sun comes up, the MV Georgiana will depart the dock to motor out to the fishing grounds at Zapata. It takes approximately 2.5-3.5 hours (depending on the weather) to motor to the anchor point in Las Salinas. Reaching the first mooring, everyone will head out in the skiffs for the first day of fishing, until dark.
May 15 – May 19, 2023: 5 Days fishing
Breakfast is typically served from 7.00am each day. The fishing boats aim to leave the mothership around 8.00am. Guests are typically provided a packed lunch to maximise time on the water. Each fishing day runs to around 4.00pm-5.30pm depending on fishing.
At the end of each day you can then retire to the back deck or air conditioned lounge, enjoying a choice of canapés until dinner is served at your groups preferred time.
May 20, 2023: departure DAY
There is an early wake-up call and breakfast on your last morning aboard MV Georgiana. The mothership will then head back to port in order to meet the bus that will transfer you to Habana International Airport. You should not book a flight departing Havana until sometime after 5:00 pm on this day.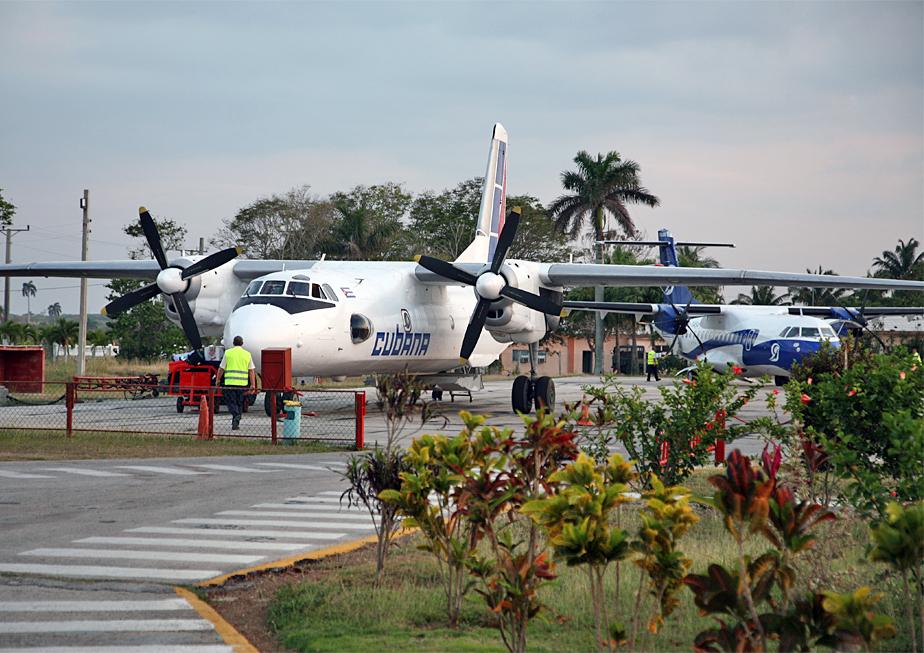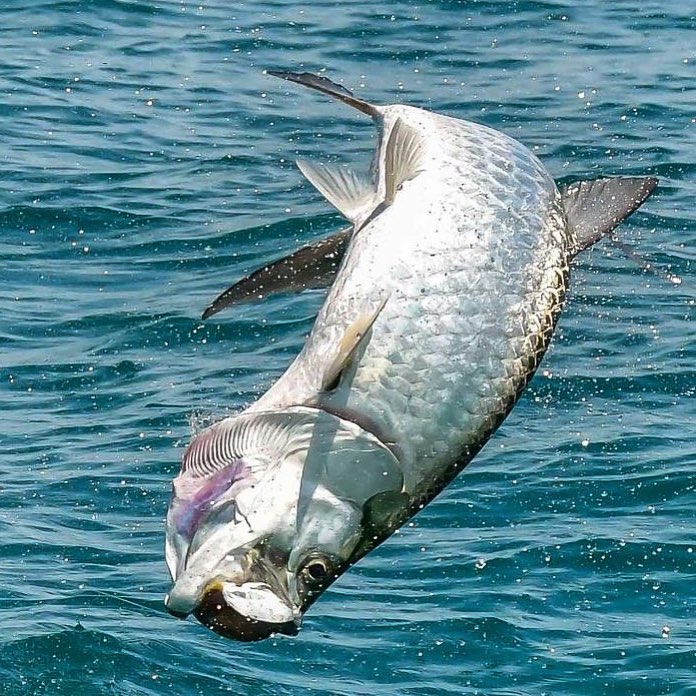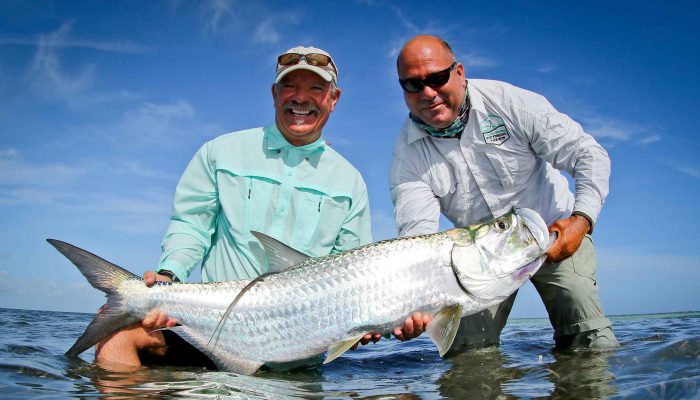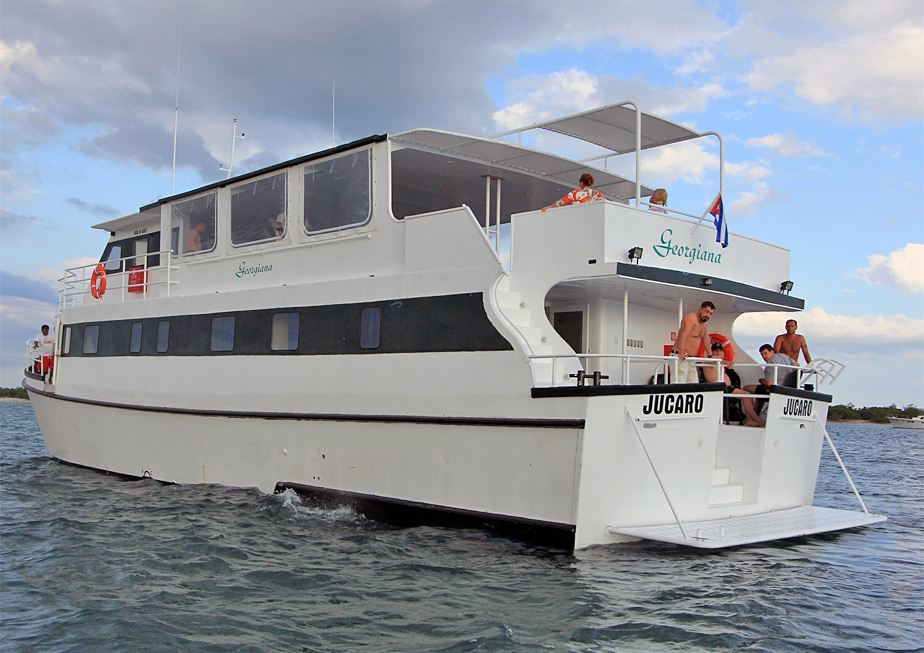 DATE

13th May, 2023

LOCATION

Zapata, Cuba

PRICE

USD $6,250 pp

Species

Permit T. Falcatus
Tarpon
Bonefish
Snook
What is included
6 days guided fishing
 – 3 days single flat botom skiff, 3 days double skiff.
7 nights accommodation aboard Georgiana – twin share, with 4 Single Room supplements available.
All transfers inside Cuba.
AFF Cuba Welcome Pack – Patagonia/AFF Sun Shirt, AFF Cap, Zapata Fly Pack
All meals and non-alcoholic beverages aboard Georgiana.
Not included
Flights to/from Havana, Cuba
One nights' accommodation recommended in Havana on the arrival night of the 12th, May 2023
Travel & medical insurance
Guide tips and Cuban Visa
Fly Fishing equipment & Flies
US$120.00 Mandatory conservation fee
All inclusive Open Bar available at US$200.00 per person.