French Polynesia Paradise
Known for its white sandy beaches, clear waters, and relaxing island vibes, French Polynesia is also home to a diverse and exciting range of saltwater sports fish.
Date

25/10/20 -
03/11/20

Location

Anaa Atoll,
Tahiti

Cost

~4990
(AUD)

Season

October

Species

Bonefish
Giant Trevally
Blue-fin Trevally
Napoleon Wrasse
Trigger Fish
Red Bass (Bohar Snapper)
Black Tip Reef Sharks
And plenty more

Request Booking
Trip Information
Anaa Atoll, is a small group of islands in French Polynesia with a population of less than 500. Anaa offers some of the most sought-after salt-water species for anglers to catch on fly. Bonefish, Triggerfish, and the aggressive Giant Trevally, make this a well-rounded and exciting fishery.
A shallow, clear lagoon, with a whole gamut of salt-water fly fishing options, this destination is just waiting to be added to the travelling angler's bucket list.
PROGRAM
Anaa Atoll's fishery has remained fairly untouched since some initial fly-fishing explorations in the early 2000s.
In recent years, Fly Odyssey Travel engaged with the local community to work towards building a sustainable sports fishery for the area.
As a result, in 2020, I will be hosting our fourth trip to Anaa Atoll. Working with local guides: Raphael, Ruben and their team, anglers have the opportunity to explore this untapped fishery in a unique, all-inclusive seven day fly-fishing and cultural experience.
With around 90 square kilometres of water to explore, and a variety of species, the angler is spoilt for choice when fishing among the lagoon or outer perimeter of the Atoll.
The small islands fringing the lagoon boast extensive sand and coral rubble flats providing an ideal habitat to polaroid cruising fish, including Bonefish, Bluefin and Striped Trevally on foot. Other species you may encounter inside the lagoon include GTs, Triggerfish, Reef sharks, Parrot fish and Surge wrasse.
The entire Atoll is surrounded by an inshore shallow reef system, with passes from the lagoon out to sea, and reef shelves where you can target species patrolling Anaa's 80km perimeter. We have discovered numerous big Bohar Snapper (2-10kg), Giant (20-40 kg) and Bluefin trevally (3-10 kg) locations, safe from big swells that allow you to both sight and blind cast the deep drop-offs for very large fish on fly. We have also recently discovered some great in-shore reef beaches with good numbers of Triggerfish, Napoleon Wrasse, Giant and Bluefin Trevally, which can all be sight casted to on foot in a metre of water.
The Anaa Lodge has four twin-share bungalows situated on a magnificent residence, fringing the lagoon. Comprising of a double and single bed, en-suite, fan and front balcony, each bungalow overlooks a private beach and swimming area. The Lodge has a large communal dining, bar and lounge area and provides a great range of Polynesian cuisine. Breakfast starts at 7am with local eggs, croissants, fresh fruits and coffee, while packed lunches and water are provided on the boats. Dinner comprises of local seafood delicacies, grilled meats, chicken, fish, and local suckling pig.
Our April trip to Anaa, in collaboration with Fly Odyssey Travel, and limited to six anglers, offers an exclusive opportunity to experience this relatively new and diverse fishery. For full trip details please contact Josh.
ITINERARY
Day 0 : 
Departing Melbourne or Sydney via Auckland on Thursday, you will arrive on the same day into Tahiti at around 10pm (-1 day). Spend the evening in Tahiti.
Day 1 : 
7am flight from Tahiti to Anaa. Transfers to lodge. First day's fishing.
Day 2-7 : 
6 Days Fly Fishing on Anaa Atoll.
Day 8 : 
Half day fishing session in the morning. The outbound flight from Anna to Tahiti will depart on the Thursday 1st.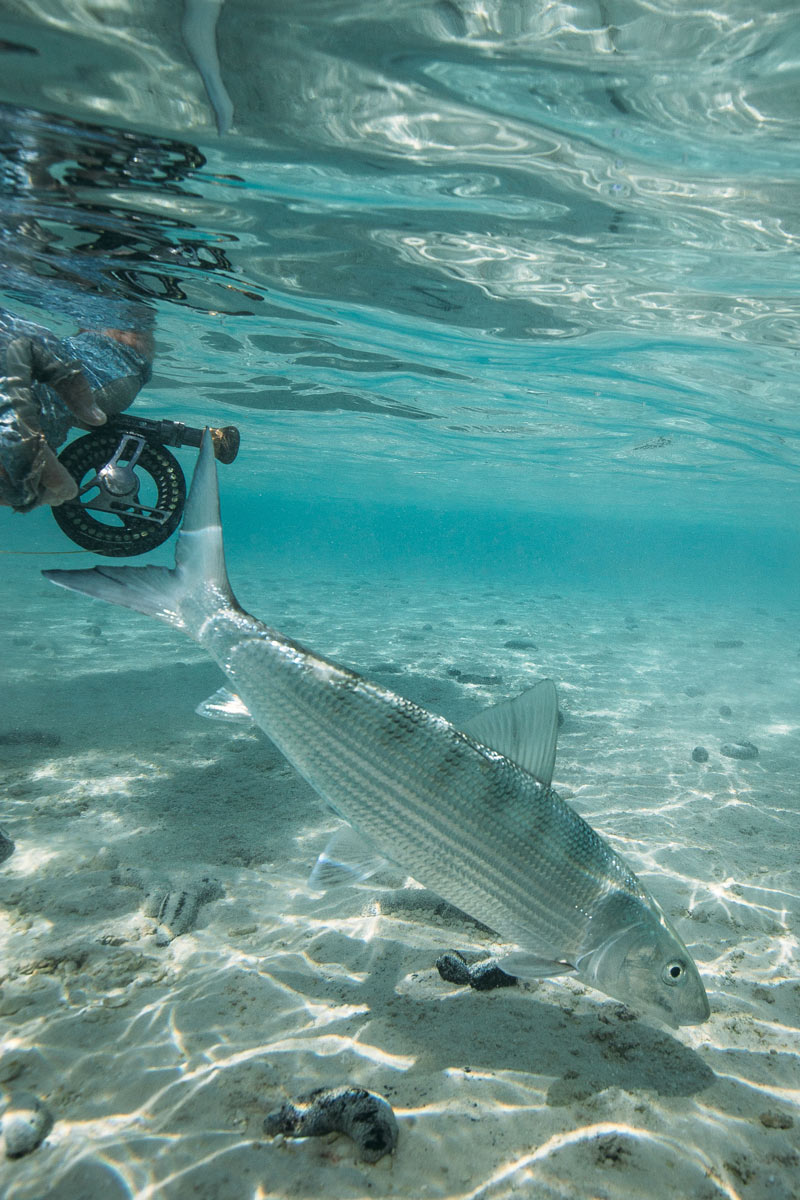 What's included
7 days fully guided charter (2 rods/guide)
7 night's twin share accommodation at Anaa Pension Lodge
All Meals & Beverages
Complimentary use of kayaks and bicycles to get around the Island
Conservation fee and cultural experiences on Anaa
Accommodation and breakfast inbound/outbound in Tahiti
Includes return airport transfers
Not included
International & domestic flights to Anaa, via Tahiti
Alcohol
Gratuities for guides & staff
Travel & Medical Insurance